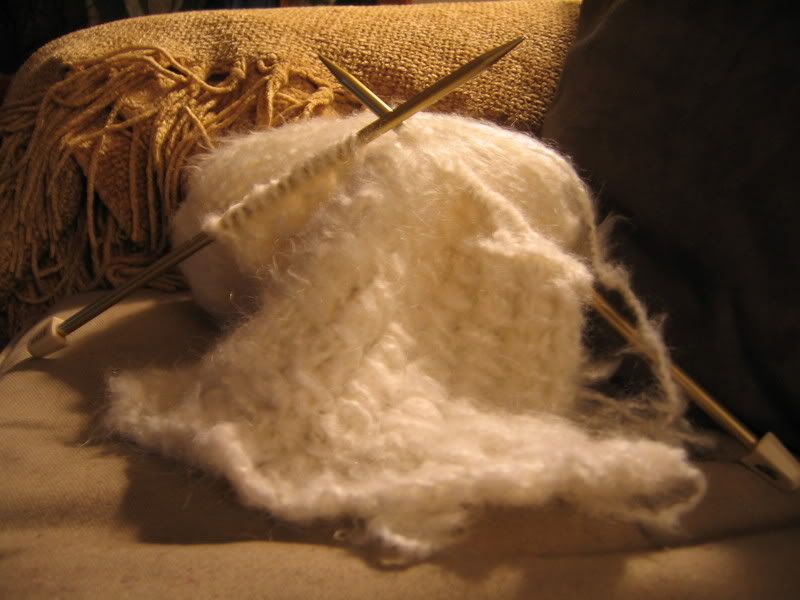 The white scarf is in progress. It's not as ethereal as I had intended, the weight of the pretty white yarn is probably a bit too heavy combined with the small stitches I'm making. But, I think it will still turn out nice. It's a great project to knit while watching TV as it's a very simple pattern. Here it is if anyone is interested:
http://www.canknit.com/free/kos.html

On another note, I hit up some of the fun Lincoln Avenue shops this afternoon. One consignment shop caught my attention. After walking in I exchanged pleasantries with the shop owner and she told me everything was half off. There had been a sign on the door that said "Buy 1 item, get the 2nd Half Off," but I wasn't going to argue with her if she wanted to be more generous. I looked around for a bit, I must've been there for maybe a half hour, as I had tried on a thing or two. In the whole course of the time while I was there, I kept thinking this woman is getting stranger and stranger by the moment. She must've asked me if I wanted coffee or tea about 5 times, each time I always said no, thank you though. Then she told me the same stories over and over again about how her husband was watching the Bears game today and how glad she was that she told him years ago she didn't care about that kind of thing. A little bit later she got into how she told her sister -in -law that she was jealous of her for being able to retire. This woman was probably between 55-60, herself. My favorite moment(s) was when she was telling me that one does not need to spend a lot to look good. Her "fancy-schmancy" sister-in-law had never visited her shop though, and couldn't understand the fun in finding a great cashmere sweater for a mere few dollars, she told me.

I really didn't think much of it until I was ready pay and leave. She could barely add up my items on her calculator. She had one of those that just had the plain white rolls of paper, simply to add items up on. She added everything twice, the second time coming to a total. Then she started adding everything up a third time. I actually got out my cell phone to use the calculator on it to add the items up, in an effort to politely help her out. This was when I decided, this lady is either completely off her rocker, or else ON something. I was starting to get nervous that she wasn't going to be able to complete the transaction and I wouldn't be able to take home my lovely second-hand store finds! Before she rung up my credit card, I reminded her of the total - I was going to be the one spazzing out if she overcharged me due to her loopiness.
End of story...I ended up with several items that I got great deals on! I promised her on my way out that I would recommend the store to all my friends, and that I will! Just be sure to visit her on "Sloshed Sundays," when there's a Bears game. Guess I just got lucky!

This bag and scarf, which are actually new, not second-hand, as the store sells both, are two of the things I picked up. I absolutely love the bag!